Sweden Visitor's Guide Online - Information about Sweden
Welcome to
Visitorsguide.se

reservation service for Sweden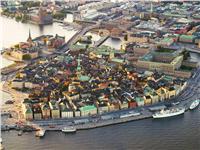 Looking for a hotel in Sweden ? We provide a wide selection of properties - budget, business, tourist, luxury, bed and breakfasts and apartments accommodation. Visitorsguide.se hotels in Sweden offer comfort, quality and great value for the money, ideal for leisure and business travelers. Swedish hotels are of high standards and will not disappoint weather you are seeking accommodation in Stockholm, Goteborg or Malmo or elsewhere in Sweden.
To start selecting, click on the hotel links below, categorized by prices and locations
Stockholm summer 2011 - article


Any great vacation begins with a great hotel deal. Are you looking for kid-friendly options, or do you have a romantic weekend in mind? Whether you're searching for luxury hotels in Stockholm or budget-friendly bargain hotels in Gothenburg, you still want the best hotel rates possible.